August 5, 2020
Reduce Wasted Compressed Air With Ultrasonic Leak Detection and Repair
Compressed air is a vital utility for every company. It's essential to maximize the full potential of every compressed air system. With rising energy costs, it's important to operate compressed air equipment as efficiently as possible and minimize leak losses.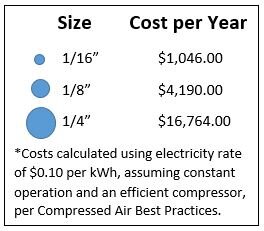 Leaks can be a significant source of wasted energy in industrial compressed air systems, presenting several challenges and issues including:
Wasting 20-30% of the compressor's output
Increased compressed air operating costs
Increased compressed air maintenance costs
Proactive leak detection and repair can reduce leaks to less than 10% of air compressor output. Maintaining the effectiveness, reliability, stability, and cost effectiveness of any compressed air system requires a leak detection and prevention program.
What is ultrasonic leak detection?
Ultra sonic leak detection is a method to identify a leak within any compressed air system. This method uses high-frequency sound produced by a pressurized gas escaping from a vessel to identify any leaks. These detectors detect sound in a range of 38 to 42 kHz using a microphone system.
In many applications, simple compressed air is sufficient for leak detection, if the leak is turbulent. However, when high frequency hissing sounds are present, you'll need an ultrasonic leak detector.
Since ultrasonic leak detectors are very sensitive to sound, they can detect an air compressor leak both large and small. An ultrasonic leak detector must be properly calibrated. When it is, it allows the technician to listen to sounds that the human ear cannot hear, such as a blink.
There are advantages and benefits to this type of leak detection:
Can be performed in an open or enclosed area.
Can be calibrated to isolate the sound produced by the leak.
Focuses on a specific frequency and can filter out most normal background sounds to avoid affecting test accuracy.
Have the capability to detect pressure and vacuum leaks.
The accuracy of ultrasonic leak detection is dependent on:
Operator performance
Environmental background conditions
The ability to isolate the sound frequency from background noise
Zorn's air compressor leak detection & repair services
A Zorn Trained Technician will conduct a survey using ultrasonic detection equipment to evaluate for compressed air leaks.
The survey process includes:
Identifying
Tagging
Repairing
Tracking
Logging
Verifying
The inspection analyzes your leak loss and estimates current annual costs of any leaks, based on your current energy costs. After assessing the results, a trained technician can repair tagged leaks in accessible areas such as:
Pipe fittings
Poly tubing
Quick connects
Hose connections
Filter regulator lubricators
Auto drains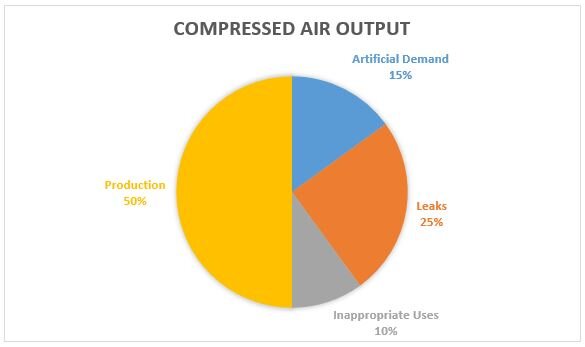 In the pie chart above, the causes of compressed air output is broken out as follows:
50% production
25% leaks
15% artificial demand
10% miss uses
Our team of experts will work with you to take advantage of incentive programs like Focus on Energy and Com Ed.
While there are other plant-specific processes that may be contributing to waste, leaks make up 25% of that waste. If you haven't reduced wasted compressed air before, here's a case for compressed air system repair and detection.
Zorn is the Midwest leader of custom, engineered compressed air and vacuum solutions. We provide the best customer experience by understanding your applications and needs and offering an unparalleled commitment to customer satisfaction.
Our comprehensive product and service solutions keep you running 24/7. We provide:
Reliable equipment
Trusted brands
Seamless, easy installation
Post-sales support
Local, 24/7 service
Our compressed air experts look forward to meeting you to discuss your equipment and support needs. Please contact us directly at (262) 695-7000 with any questions or to schedule service for your system moving forward.
Work with the Compressed-Air Experts